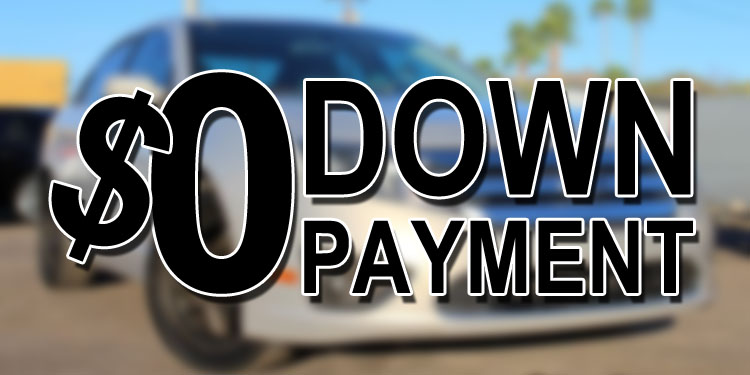 If you are searching for "guaranteed auto loans bad credit no money down" or "low money down" in Phoenix, this post should help! In-Power Motors 2 offers buy here pay here financing and can get you approved for a used vehicle for as little as $500 down. We are one of the only $500 down car lots that offer financing for buyers with bad credit or no credit.
Providing you have sufficient income, you can be offered financing even with low money down from most bad credit no credit car dealerships. But when you do not have $500 to put as a down payment, this guide will show you how to obtain a no money down guaranteed auto loan.
Tips For Guaranteed Auto Loans With No Money Down
As long as you can prove you have a job, make enough income, a bank account and have a solid residency history, you should be able to find  low money down financing or no money down financing for a used vehicle. Read more about these qualifications below.
1. Job History
Being at your current job for a while is essential as anyone that is going to offer you financing wants to see this. Without it, the chances are very slim you will get a guaranteed auto loan. It is advantageous to have a couple of your most recent check stubs showing your year to date income.  This helps support what you make and that you'll be able to make the payments.
2. Residency History
Your chances improve for approval if you have been resident at your current location for more than one year. Lenders get concerned when they see frequent moves as they need to know where the vehicle can be picked up should you move. Bringing a utility bill is a great idea and it should match your name and the address used in your auto loan application.
3. Open A Bank Account
It really helps to have an active bank account where you deposit checks or cash from your employment. A large balance is not need but some lenders may want to see your banking trasactions before lending to you. Especially if you are a business owner or don't get paid with a check.
4. Get A Credit Card
Having some form of positive credit will go along way with getting lenders to trust you so it is a good idea to get a small line of credit like a credit card that you use and pay on every month. The longer you have maintained this positive line of credit, the better chance you have at getting approved for a no money down car loan.
What is a No Money Down Car Loan?
If the lender feels like you are paying a fair price for the vehicle or you are getting a loan from a reputable local dealer like In-Power Motors and have a trade-in, these loans can become much easier to obtain. Also known as zero down cash loans and no cash down loans, a no money down loan is aimed at borrowers with a credit score of 700 or greater for the best chance to qualify for a loan. You will have to provide recent pay stubs as part of the terms and conditions for this kind of loan to ensure you have the means to pay the loan back. . A no money down car loan can be a fantastic option and the professionals at In-Power Motors are happy to discuss all your financing options to get you into the vehicle you want.
Here are some of the many benefits by using In-Power Motors no money down car loan programs where there is no down payment and no financial relief:
The ability to make affordable and realistic monthly payments.
The replacement part of your old one breaks down
Instant financial relief
A new or used car without making a down payment
The second car for your family with no hassle
Credit Score Needed for Zero Down Car Loan
It is seldom anyone's first choice to finance a car with no money down and with bad credit. Usually, you will need a down payment of at least $500-$1,000 and an acceptable credit score to qualify.
What Do Zero Down Lenders Look At To Get Approved?
Your income level
Credit score
Job history
It is very important to submit an accurate application. This will ensure your lender can substantiate that you are in a position to make payments regularly and this will help your credit score as well.
How No Money Down Car Financing Works
Nowadays, because of rising demand, lenders are taking on more risks than before because the need for car loans with no money down and bad credit has increased a great deal. Car dealers finance other loans and continue operating by using the upfront payment you make on a new car. To be able to take on some of these additional risks, they need to make various adjustments.
Without making a down payment, the total payment will be higher and the money you thought you saved at the beginning will of course be charged later. Obviously, over time the zero down loan options is more costly than a loan where you made a down payment. So obviously car dealers would still rather you make a down payment is it is feasible.
Additionally, the loan company may subtract any repair warranties that may be offered with the car. Nonetheless, no money down car loans are still a good proposition for a short-term loan.
Two Kinds Of Car Shoppers:
The Quick No Money Down Car Buyer: Choosing a no money down car loan may be the choice for a quick buyer. A quick buyer appreciates that car loans with bad credit and zero down are easy options. It is a good option for those incapable of making a large down payment. With a credit card ready to go, they see the car they wish to purchase.  Although it may be the opportunity of a lifetime, it can cause further financial stress down the road. However, choosing this option may be important if it is a limited time offer.
The Car Buyer With A Poor Credit Score: Buyers with bad credit scores often opt for zero down car loans because they simply do not have the needed cash to make a down payment, making getting a car loan substantially more difficult.
Sadly, there are some less than reputable companies who exploit this by raising their prices and charges excessive amounts of money. Often they increase the monthly payments over time. When the buyer realizes this, it is often too late to make any changes. Thankfully, In-Power Motors are on your side and will work with your situation to ensure you not only get into a vehicle, but one where the price you pay will be clear upfront.
Resources For Guaranteed Auto Loans With Low Money Down
If you've got a steady job, enough income, and a down payment; you'll most likely be able to get an auto loan for a new used car at one of our Phoenix locations.
Here are resources for guaranteed auto loans with no money down:
The easiest way to a loan for a car is to stop by one of our 4 locations.  You can fill out our application and talk with us directly about getting the wheels you need for your personal and/or professional needs.  Whether it's a car, truck, van, or SUV we have selection that beats the competition and a buying experience that's second to none!  Call or stop by one of our 4 Phoenix Valley Used car lots to see the inventory and apply for our financing to get on the road.